Sdiptech acquires the Norwegian technology company HeatWork

Sdiptech acquires Norwegian HeatWork

Sdiptech AB has acquired a majority stake in HeatWork.
HeatWork is an international business with headquarter and factory in Narvik, Norway, with subsidiaries in Sweden and Finland.  Over 20 years, the company has built up a unique expertise in hydronic heat technology.
HeatWork is known as a market leader within the concept of thawing, but today delivers a complete heating concept to its customers. It includes many areas of use such as building heating/drying, concrete curing, district heat, energy, preparedness, pest control and others.
HeatWork has a strong focus on innovative, sustainable and quality solutions, and the technology contributes to a significant reduction in both energy consumption, cost, and CO2 emissions. The self-developed patented solutions have always challenged the established. HeatWork has all the way had control of the value chain from ideas to development and production, and further on to sales and aftersales. This has given a close contact with customers and market demands.
Sdiptech is a technology group that will strengthen HeatWork's international growth, as well as building on the company's ambitions to be a sustainable and innovative driver in the market.
«We are a fantastic team at HeatWork, and I look forward to this new journey together with the whole team. HeatWork's vision has always been to offer more efficient and environmentally friendly solutions compared to what's available in the market, and we will continue to do so. To become a part of the Sdiptech family is an exiting step for the company and this development will happen with the factory in Narvik as base. Focusing on new market areas and international growth, Sdiptech can open up many opportunities for HeatWork" says CEO of HeatWork Reidar Schille.
«HeatWork contributes to a sustainable future for future generations. We are happy to become a part of Sdiptech, where their sustainability goals are in line with HeatWork's strategy. After 20 years as entrepreneur of HeatWork, and over 40 years in the construction industry, it now feels right to pass on the baton. That today's management, including my two daughters, will continue to run the company together with such a company behind us, gives me confidence that HeatWork has an incredibly exciting journey ahead. That fact that we have managed to build up this company in Narvik, and that Sdiptech acknowledges that it is absolutely right to venture out into the world from here, makes me very proud. I look forward to following HeatWork's path in the future, and I am sure that the team at HeatWork, together with Sdiptech, will take the company to the next level, says founder of HeatWork Almar Markussen.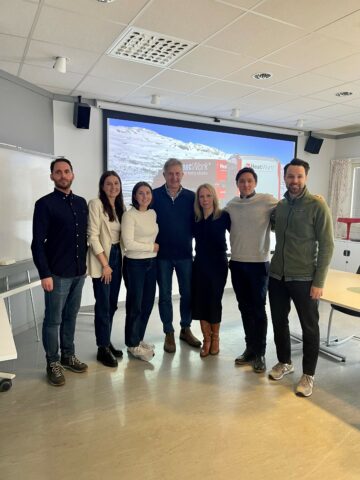 For more informations, please contact :
Reidar Schille, CEO HeatWork, + 47 901 45 039, reidar@heatwork.com
More Information about Sdiptech
https://www.sdiptech.se/