HeatWork gives concrete work a new standard – reducing the curing / hardening time by 85%
Controlled concrete work in challenging climates is now made possible by HeatWork.
A new solution guaranteeing foreman and entrepreneur documented quality. The method will
secure progress and revolutionize the curing / hardening process for building projects during summer and winter alike.
Tested by large-scale entrepreneurs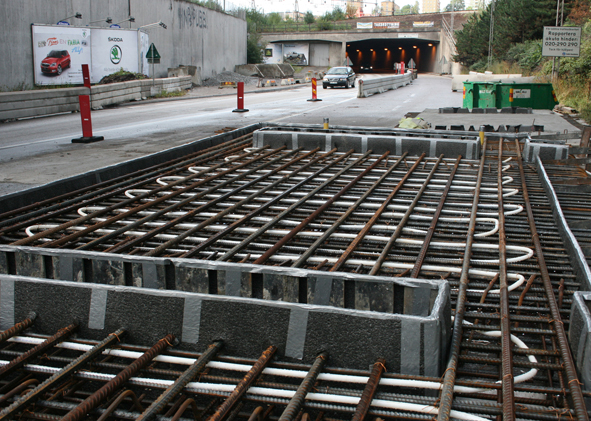 Through cooperation between HeatWork and major actors such as Peab, Svevia, and Bilfinger Berger, as well as numerous wind power entrepreneurs, the method is tested and utilized in various concrete projects in Sweden. Experiences have been very satisfactory, and feedback has been exclusively positive. The method has been described as a success. Norwegian entrepreneurs have also utilized the method for the same purposes. HeatWork sees major new areas of use for the concept.
Effective method
HeatWork is used as an energy source and a management tool
In addition to exact temperature- and curing / hardening controls through grouted HW-pipes in the concrete, quality is secured optimally during curing / hardening. Temperature and energy for all operations can be controlled with infinite variability from 0-100 degrees, or be controlled by connectible, preset temperature sensors which manage the process.
With HeatWork, you thus have full control during preheating, shaping, and curing / hardening
Our system and method can easily also be used for cooling in concrete structures when necessary.
Revolutionary in Scandinavia
This is new to Scandinavia, and the method is described as revolutionary and innovative. Svevia and Peab have implemented our system and method in concrete flooring work on ground and bridge constructions.
With increased requirements for documented quality, as well as for progress independent of season, HeatWork is a crucial tool for entrepreneurs and construction clients in the future.
These new areas of use make HeatWork a multiple-use concept, ensuring actors in both the private and public sectors major gains from these innovations.
HeatWork goes for innovation
HeatWork AS is the developer and producer of concepts in heating and soil thawing for the European market. The factory is localized in Narvik, and began production in 2005.
Turnover increased from 46 million NOK in 2010 to 56 million NOK in 2011. Growth will continue at a controlled pace and the company is now entering new markets and areas of use with it's machines and solutions.
HeatWork's customers are mainly machine entrepreneurs, landscape gardeners, rental companies, public departments, and actors within the construction industry. HeatWork is represented in multiple countries.
For more information, contact:
HeatWork's Managing Director, Børre Simonsen, telephone + 47 913 29 390
or Chairman of the Board, Almar Markussen, telephone + 47 905 21 805
Narvik, the 31st of January 2012