HeatWork to Antarctica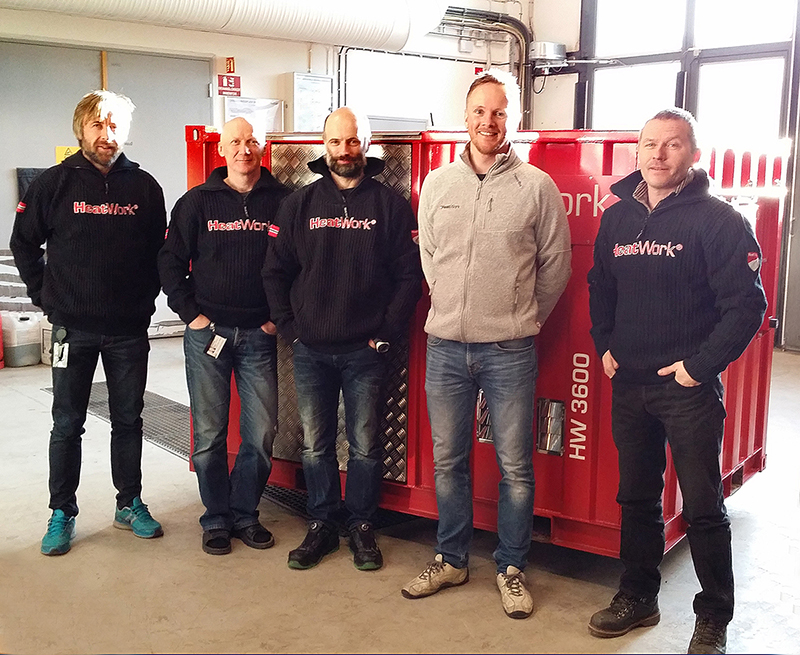 From the left: Jon Hugo Strømseng, Einar Johansen, Harvey Goodwin, Tommy Larsen and Svein Henriksen.
HeatWork AS and the Norwegian Polar Institute have reached an agreement regarding the provision of a container-edition of the HW FrostHeater 3600, as well as various pieces of extra equipment such as fans and isolations mats. The machine was delivered on Tuesday the 21st of October in Tromsø.
The machine is to operate at the Troll Research Station, which is built into the side of a mountain. Here, the ground consists of frozen moraines. The Norwegian Polar Institute will now have the possibility of thawing before laying cables and pipes in the ground, as well as thawing out pipe trenches and cable trenches for maintenance work and heating up the 80 square meter – large welcome tent at the airport.
For Narvik and Northern Norway, this is exciting, and shows that local companies can contribute to development in a variety of fields, says HeatWork's CEO, Reidar Schille. "We are also investing heavily on FoU and continuously developing new products." HeatWork provides world-class solutions when it comes to environmentally friendly solutions for the area of application that our machines operate in. Hydronic heat is the most environmentally effective way to transfer heat, says Schille.
The Norwegian Polar Institute is Norway's central institute for scientific research, environmental monitoring, and the mapping of the Arctic and Antarctica. They are in charge of knowledge and advice for the Norwegian authorities in the polar areas, and have management authority for all Norwegian activity in Antarctica The Institute is a directorate under the Ministry of Climate and the Environment.
HeatWork AS has developed its heating/thawing concept, and is the only company in Europe to manufacture its systems. The company has a strong focus on service, quality, and close communication with our customers. The machines that are produced to European standards and norms are mobile powerhouses specially designed for a variety of applications: ground thawing, hardening concrete, securing against frost, heating buildings, providing hot water to district heating systems, and more.