HW Aerotemper are phased out and replaced with our news CliWi, a unique environment product that provides clean air and improve indoor air! That means we have a few models in which you can order. Please contact your sales man for further information.
HW Aerotemper
Protects a good indoor climate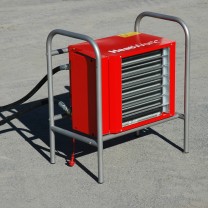 With a system temperature of 100°C, our fans are 25% more efficient. This makes the fans extremely flexible and versatile.
HW Fans fulfill strict indoor environment requirements; heating does not introduce humidity or smells. The fans are noiseless and distribute the heat evenly through the building, room or hall. With fans connected to HeatWork, you avoid the smells and mess of fuels in the building. The fans don't need maintenance or inspection, and don't cause emissions or annoying noise. The system only needs filling with diesel. Available in 10 and 35 kW.
The fans are connected to the HeatWork machine with 5/8" hoses in 5, 10 or 25 meter lengths. Supply hoses are sold separately.
Areas of application
Heating buildings under construction
Heating halls, tents etc
Extra heating in cold periods
Paving inside heated tents
---
HW Xtra Drum
Easy expansion of the thawing area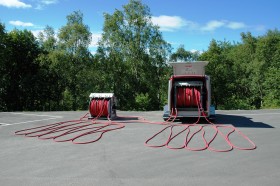 HW Xtra Drum easily extends the thawing area by connecting to HW 3600. A 630 metre hose, easy operation and fast rigging mean that you get the maximum capacity out of your machine. Supplied with frame with forklift pockets.
Supply hoses are sold separately in 5, 10 or 25 meter lengths.
Areas of application
Expand the thawing capacity of HeatWork:
FrostHeater HW 3600, trailer and container
PetroHeater HW 3600
HydroHeater HW 3600
---
HW Tarpaulin
Optimizes the thawing process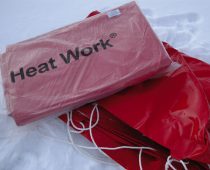 The extremely durable PVC material used in the tarpaulin optimizes the thawing process when used together with the HeatWork heating and thawing concept and HW insulating mats.
It helps weigh down the insulating mats and reduces heat loss.
The sewn-in fasteners make the tarpaulin extremely user-friendly.
The tarpaulin comes in 6 different sizes:
7 m x 1.5 m (10.5 m2), weight: 7.5 Kg
4 m x 3 m (12 m2), weight: 8.4 Kg
6 m x 2.5 m (15 m2), weight: 10.8 Kg
7 m x 2.5 m (17.5 m2), weight: 12.2 Kg
12 m x 2.5 m (30 m2), weight: 21.5 Kg
7 m x 5 m (35 m2), weight: 24.5 Kg
Areas of application
Covers joints and protects from wind and weather.
Minimizes heat loss during thawing
Helps weigh down the HeatWork Mat
Protects newly-laid concrete surfaces
Covers formwork
Covers building materials
Trenches and more