CliWi – High capacity, flexibility, and user-friendliness
…These are things that make the CliWi exchanger 100kW a clear first-choice for anyone who requires hot water!
CliWi 100 kW exchanger is both easy to service and placement-friendly. With a focus on mobility and performance, the exchanger is an excellent tool for a multitude of uses
The machine is quickly attached to, for example, the central heating systems or heat exchangers in a building, without end-users experiencing sporadic breaks or problems with the delivery of tap water or heating.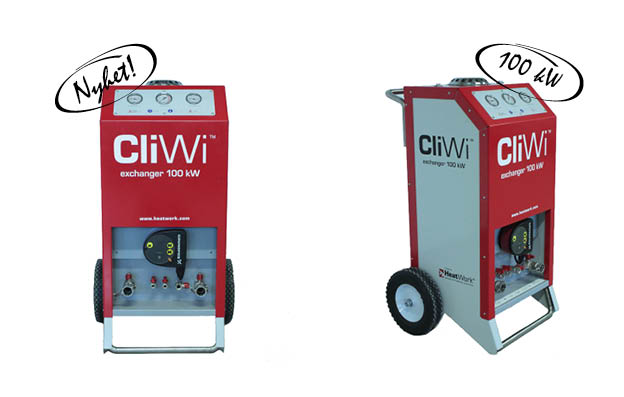 Base attributes:
100 kW
75 kg
H:1100 D:450 B:70
The secondary side is constructed with rust-free materials
100 % self-draining, including pump housing
Can be stored in cold / icy conditions
Expansion tank 18 liter
Plate exchanger
Instruments for trip and return temperatures
Displays system pressure on secondary side
Magna 1 Grundfos pump
Some of the areas of use enabled by attachment of CliWi 100 kW to HW machine
Hot consumptive water
Temporary operation of central heating systems
Temporary operation of water-based underfloor heating systems
Buildings in construction
Rehabilitation
Disinfecting
Preparation
Hot water for temporary showers
Hot water for uses within industrial processing, fishing, farming, and similar sectors.