Mobile hydronic heater – delivers 100°C.
Effective for hydronic ground thawing, heating, concrete work, damage restoration, and more
For more than 10 years we as the manufacturer have thought development, production, and quality for you as the customer!
We offer mobile heating solutions for use all year round – everywhere!
HeatWork's self-driven and mobile machines deliver 100°C fluid-borne heat, with an effectivity level of 94%. Our machines are the market's most environmentally friendly and profitable thawing and heating solutions; for concrete work, heating buildings, damage restoration, and hydronic ground thawing in cold climates.
Our most important task is to provide you with more areas of use. In addition, we are continually developing additional products which make the machine usable all year-round. This makes you a winner in the competition with other actors in the market!
FrostHeater has three models:
HW 3600
• 100°C
• 103 kW
• 1860 kg
HW 1800
• 100°C
• 70 kW
• 1680 kg
MY35
• 100°C
• 35 kW
• from 910 kg
---
HeatWork thaws twice as quick!
The winter has traditionally been a 'waiting period' for the construction industry. Our systems enable you to avoid production standstills and staff layoffs.
User-friendly and efficient machines with low operating costs have set a new standard for concrete work, heating buildings and thawing frozen soil in cold climates. This is the future!
HeatWork 100°C – next to a comparable machine on the market – 80°C
Multiple tests performed in a frost-lab by Svein-Erik Sveen, PhD from Narvik University College. "Research on frost in soil problematics".
HW Insulation mats
Larger pump capacity
Shorter hose circuits
Usefulness for you as a customer:
Provides greater economic gains in relation to planning and time
Can be finished on schedule and invoiced
Satisfied customers and satisfied users
HeatWork's FrostHeater is the most environment-friendly and cost-efficient heating option on the market.
All of our machines have adjustable temperatures up to 100 degrees Celsius and weigh under 2000 kg.
Weight under 2000 kg
Scandinavian design and quality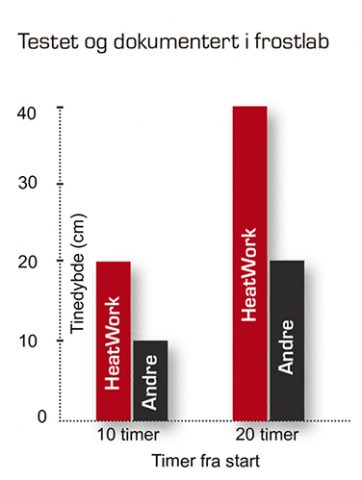 ---
See its many areas of application here
How FrostHeater is used to thaw frozen ground
Flexible heating hoses are laid out over the area to be thawed, cured, or protected from frost.
HW's heat-transporting fluid circulates in a closed system and gives off heat directly into the ground.
The hoses are covered with reflecting HW insulation mats for maximum heat transfer and to avoid heat loss.
The moisture in the material is heated, and quickly and effectively thaws downward, 30-80 cm in 24 hours, depending on ground conditions.
The machine operates unmanned until the job is complete. A GSM control unit will notify the operator of any irregularities.

---